August 03rd, 2023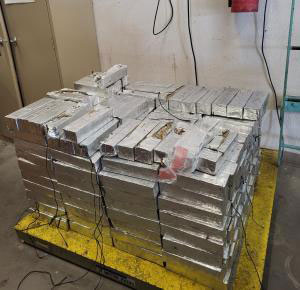 SANTA TERESA, N.M - U.S. Customs and Border Protection officers working at the Santa Teresa port of entry intercepted 602 pounds of methamphetamine, 27 pounds of cocaine and 5.5 pounds of fentanyl on two separate failed smuggling attempts.
"Our CBP officers remain focused on the narcotic interdiction mission while also facilitating legitimate trade and travel," said acting CBP El Paso Director Field Operations Ray Provencio. "Disrupting the flow of illicit narcotics at our ports of entry is a significant part of our enduring mission priorities."
The first interception occurred July 31, when an individual arrived from Mexico via the vehicle lanes in a sports utility vehicle. The 36-year-old man was referred for a secondary inspection of the vehicle which included screening by a canine team and a non-intrusive inspection (x-ray). Following a thorough examination, CBP officers located mixed packages containing 27 pounds of cocaine and 5.5 pounds of fentanyl concealed within the vehicle. The narcotics and vehicle were seized by CBP and the individual was turned over to Homeland Security Investigations for prosecution.
The second interception occurred August 2, when an individual arrived from Mexico via the commercial cargo lot in a tractor trailer. A secondary inspection was conducted utilizing non-intrusive technology, where anomalies were detected within the trailers roof panels. A systematic inspection led to the discovery of 360 bundles with a combined weight of 602 pounds of methamphetamine concealed within the roof panels. No arrests were immediately made. The case remains under investigation.
"CBP officers at the Santa Teresa port of entry will exact the same level of scrutiny to all arriving traffic as exercised at a larger port like El Paso," said acting CBP Santa Teresa Port Director Michael Salvatti. "The Santa Teresa port is an important part of the overall effort to keep our communities drug free."
back...