September 30th, 2019
AL UDEID AIR BASE, Qatar – U.S. Senators Martha McSally (R-AZ) and Joe Manchin (D-WV) returned from a trip to the Strait of Hormuz, Gulf of Oman, Saudi Arabia, Bahrain, Qatar, and multiple U.S. military bases throughout the Gulf States.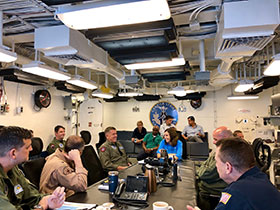 Senator McSally attends a briefing with Rear Admiral Michael Boyle.
"After multiple deployments to the Middle East, I know firsthand the complex regional security challenges that are increasing with Iran's recent dangerous and escalating attacks," said McSally. "It was great to be joined by Senator Joe Manchin of West Virginia to see our military posture and meet many Arizonans who are currently deployed to the region."
McSally led a bipartisan Senate delegation to visit the USS Abraham Lincoln aircraft carrier in the Gulf region and the USS Ramage destroyer conducting freedom of navigation missions in the Strait of Hormuz. They also stopped in surrounding nations to gain a hands-on understanding of the political and military ramifications of Iran's escalating attacks and the current situation in the CENTCOM area of responsibility.
The Strait of Hormuz represents a critical choke point for the global economy, with one-third of the world's oil supply—about 21 million barrels of crude and refined oil—traveling through its waters on a daily basis. That amounts to nearly $1.2 billion in oil each day.
During the trip, McSally and Manchin spoke with top defense and state department officials regarding Iranian escalations threatening global commerce; coalition efforts securing freedom of navigation through the Strait of Hormuz; diplomatic considerations; and options to return to deterrence. They also met with commanders, Sailors and aircrew on the carrier and destroyer who are executing daily strategic deterrence missions through the Strait and the Arabian Sea.
The delegation's final stop was the Saudi Aramco oil processing facility in Abqaiq, which was recently attacked by Iran. McSally and Manchin were the first U.S. senators/legislators to visit the damaged site since the September 14 attacks.
On July 11, McSally pressed General Mark A. Milley, nominee to be Chairman of the Joint Chiefs of Staff, regarding U.S. military strategy toward Iran.
Prior to serving in Congress, McSally served 26 years in the U.S. Air Force and six deployments to the Middle East and Afghanistan.
McSally and Manchin serve together on the Senate Armed Services and Energy and Natural Resources Committees.
back...