October 24th, 2017 -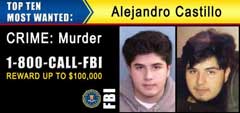 Digital billboards featuring Alejandro Castillo will be displayed in several states along the Mexican border.
Description
Aliases: Alexandro Castillo, Alex Castillo, Alejandro Rosales, Alejandro Rosales Castillo, Alejandro Rosales-Castillo, Alejandro Rosalescastillo
Date(s) of Birth Used: November 26, 1998
Place of Birth: Arizona
Hair: Black
Eyes: Brown
Height: 5'6"
Weight: 180 to 190 pounds
Sex: Male
Race: White (Hispanic)
Nationality: American
Languages: English, Spanish
Alejandro "Alex" Castillo has been added to the FBI's Ten Most Wanted Fugitives list. The FBI and the Charlotte-Mecklenburg Police Department seek the public's assistance to locate Castillo, whom investigators allege is responsible for murdering a 23-year-old woman in Charlotte, North Carolina. Castillo should be considered armed and dangerous. The FBI is offering a reward of up to $100,000 for information leading directly to his arrest.
Castillo is believed to have fled to Mexico in August 2016 after allegedly killing Truc Quan "Sandy" Ly Le. Her body was found in a county just outside of Charlotte on August 17, 2016. The case initially began as three separate missing person reports for Castillo, Ly Le, and Ahmia "Mia" Feaster. The three had worked together at a Charlotte restaurant. The investigation, led by the Charlotte-Mecklenburg Police Department, uncovered evidence that Ly Le had lent Castillo money. Text messages between the two showed Castillo wanted to meet in Charlotte on August 9, 2016, to repay the loan. The victim's vehicle was located in Phoenix, Arizona, at a bus station on August 15, 2016. Castillo and Feaster crossed the border into Mexico. Feaster surrendered to authorities in Aguascalientes, Mexico, on October 20, 2016. She faces several state charges related to the murder, including accessory after the fact.
Castillo's last known residence was in Charlotte, North Carolina. He has family ties to Phoenix, Arizona. Castillo was seen on surveillance video crossing the border into Mexico and may reside in San Francisco de los Romo or Pabellón de Arteaga in the Mexican state of Aguascalientes. He also may have traveled to the states of Guanajuato or Veracruz. Castillo speaks English and Spanish.
A state arrest warrant was issued in the District Court of North Carolina for Mecklenburg County on November 2, 2016, charging Castillo with first-degree murder. On February 10, 2017, a federal arrest warrant was issued in the United States District Court for the Western District of North Carolina, Charlotte, North Carolina, charging Castillo with unlawful flight to avoid prosecution.
"For more than 65 years, the FBI has utilized the public to help us find the FBI's Ten Most Wanted Fugitives, and many times, your tips provided the information we needed to get the most dangerous fugitives into custody. Today, we are asking for your help again to find Alejandro Castillo and bring him to justice for taking the life of an innocent young woman and robbing her family of a future with their loved one," said John Strong, special agent in charge of the FBI in North Carolina.
"We appreciate the FBI's assistance and resources in the search for this wanted man. Now, we need help from the community—in Charlotte, in Arizona, and in Mexico—to located Mr. Castillo, so that we can provide some sense of closure to Sandy Ly Le's family," said Charlotte-Mecklenburg Police Chief Kerr Putney. "We must all work together to bring this man to justice."
Castillo is the 516th person to be placed on the FBI's Ten Most Wanted Fugitives list. A wanted poster is available on the FBI's website and is posted on various social media platforms, including Facebook and Twitter. Billboards in several states that border Mexico will feature the information below. Anyone with information on Castillo's whereabouts should call the FBI at 1-800-CALL-FBI or Charlotte-Mecklenburg Crime Stoppers at 704-334-1600. Tips can also be provided online to the FBI.
The Charlotte-Mecklenburg Police Department is investigating the murder. The FBI is assisting with the international fugitive investigation. The Mecklenburg County District Attorney's Office and the U.S. Attorney's Office of the Western District of North Carolina filed charges against Castillo as part of this collaborative effort to seek justice for the victim and her family.
back...

Arizona Free Press

Click on "Latest Threads" above
for additional articles.

Physical Address

A government big enough to give you everything you want, is strong enough to take everything you have. -Thomas Jefferson

Mailing Address

550 N. Willow St.
Globe, AZ 85501