May 18th, 2017 -
YUMA, Ariz. — Blythe Border Patrol agents seized more than 20 lbs. of heroin and arrested two Mexican nationals on Wednesday.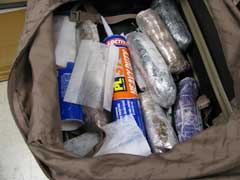 Agents discovered more than 20 pounds of heroin that had been stuffed into tubes of caulking material
Yesterday morning, agents conducting bus checks at the Greyhound Bus Station in Blythe, California encountered two male Mexican nationals in violation of their immigration status. A subsequent search to their arrest resulted in the discovery of 19 packages of Brown heroin hidden within their luggage and concealed in caulking tubes.
Agents arrested both individuals for immigration and narcotics violation and seized the drugs for processing in accordance with Yuma Sector guidelines.
back...

Arizona Free Press

Click on "Latest Threads" above
for additional articles.

Physical Address

We are in the process of additions and revisions. Your patience is appreciated.

Mailing Address

P.O. Box 677
Roosevelt, AZ 85545